I've finally decided to sell my s13 240sx: 6000$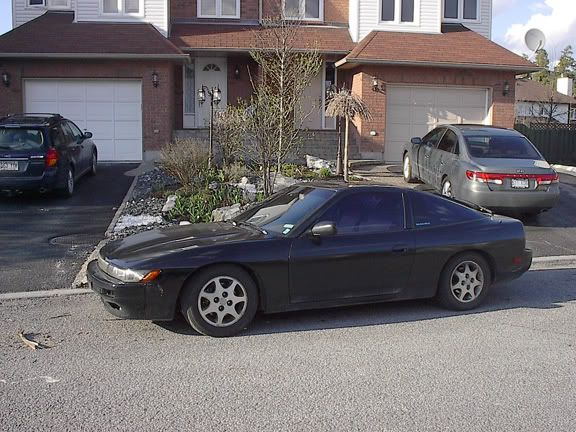 -S14 SR20DET
-ACT clutch
-B&M short shifter
-GReddy front mount intercooler
-GReddy Boost controller and turbo timer
-GReddy 02 housing
-I30 3" MAFS
-Koyo rad and electric fan
-Custom 3" full exhaust with magnaflow muffler
-Walbro fuel pump
-battery relocated to rear
-Tein superdrift suspension with EDFC
-26mm 300zx front brakes
-gauges (A/F, boost, water temp, exhaust temp, oil pressure)
-3 point sparco racing seat belt
-S13 silvia front end conversion
-2 sets of stock S13 7 spoke rims
-Racing seats
-Wideband and megasquirt included
and more... just can't think of it all right now.
This is a very good car! and it's a perfect project car for drifting or racing! Last sumer, on the 1/4 mile i did a 13.054, so it's definately fast. Although there are a few issues with the car at the moment. It requires new injectors and a tune. A new speed sensor is also required. As far as rust goes, the car is clean. I've already repaired the little bit of rust that was on the car using metal, not bondo! and the rear hatch has never had a spoiler, so no rust there. I don't have many pictures at the moment, but i will post up the few that i do have. I'm asking 6000$ which i think is fairly reasonnable for everything that is included in the car.
You can reach me at
freddysi@gmail.com
or by phone (819)661-0793.
Frederic